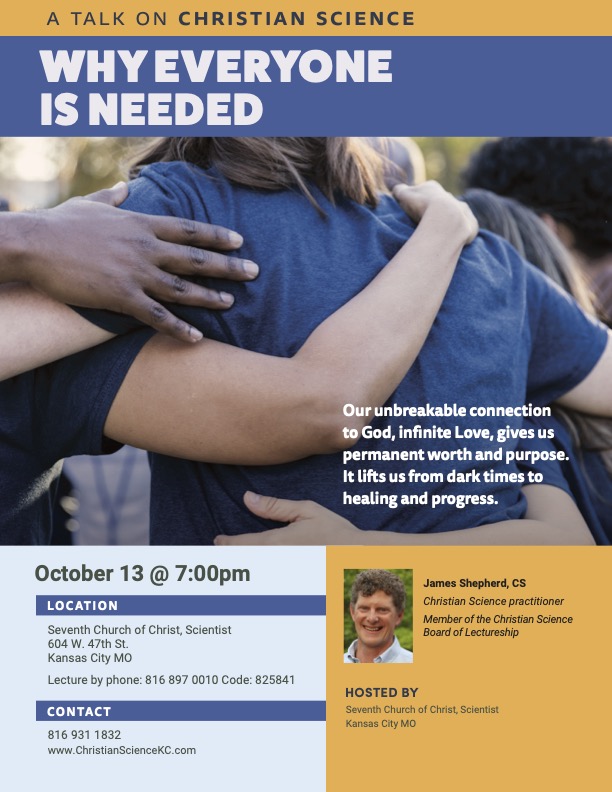 This talk is hosted by the Seventh Church of Christ, Scientist
Kansas City MO.
A talk on Christian Science:
Why Everyone is Needed
Our unbreakable connection to God, infinite Love, gives us permanent worth and purpose. It lifts us from dark times to healing and progress.
October 13 @ 7:00pm
Join us at:
Seventh Church of Christ, Scientist
604 W. 47th St.
Kansas City MO
Lecture by phone: 816 897 0010 Code: 825841
Childcare will be provided.
Talk given by:
James Shepherd, CS
Christian Science practitioner
Member of the Christian Science
Board of Lectureship

Caring for one another - The Christian Demand
The Foundation, The Visit, and Eating Challenges
Love's Provision along with the Communities of Christian Caring are inviting you to a workshop presented by John Cochran, CS and Tina Bilhorn, CSN.
Have you ever wanted to help your fellow Christian Scientist but didn't know the best way to reach out? This workshop is designed for Christian Scientists to explore ways to help meet another's need, for example when there appears to be a food challenge. This workshop will also include an important discussion about how, as Christian Scientists, to metaphysically and ethically approach meeting the needs of others.
To prepare for the workshop, please join us in studying 2nd Kings (chapter 4) where Elisha asks the widow who comes to him for help, "What hast thou in the house?" This will help us consider what each of us has to contribute in any situation.
Saturday October 1, 2022
9:00 – 11:00 am
By Zoom
Please RSVP to Love's Provision at:
lovesprovisioncsn@gmail.com
or Ronna Koepp 816-213-2279
Zoom link:
Join Zoom Meeting
https://us02web.zoom.us/j/83862439500
Meeting ID: 838 6243 9500
One tap mobile
+13017158592,,83862439500# US (Washington DC)
+13092053325,,83862439500# US
You can also call 214-447-9675 to access the Christian Science Broadcast Committee of North Texas to listen to the Sentinel Watch program, the Weekly Bible Lesson and the Daily Lift.
RiperYears.org - a website focused on resources for senior Christian Scientists.
Upcoming Christian Science Lecture
Christian Science
A CLEAR VIEW OF YOU A higher, clearer view of ourselves — as the likeness of God, infinite Love — can bring hope and healing.
— Talk by Lyle Young, CSB Tuesday, June 28, 2022 at 6:30 pm
2600 SW Fairlawn Rd, Topeka, KS 

LECTURE REPLAY
Spiritual Discovery
How you can better the world
The Bible is the foundation for the theology and practice of Christian Science. Christian Scientists "take the inspired Word of the Bible as our sufficient guide to eternal Life" (Science and Health, p. 497). They also study a textbook, Science and Health with Key to the Scriptures by Mary Baker Eddy, which helps explain and interpret the core teachings of the Bible.  These two books serve as the universal Pastor for every Church of Christ, Scientist around the world.
Click here for the locations and hours of the five reading rooms.
Are you looking for healing in your life? If so, you are invited to visit our Wednesday Testimony meetings where fellow students of Christian Science share their first-hand healing experiences resulting from their study of Christian Science. Here are the schedule and location of the five churches in Kansas City Metro Area.
Everyone is welcome!
The Christian Science Publishing Society publishes contemporary and relevant Christian Science magazines and a newspaper covering important global issues.  All these resources are found on their website: JSH-Online.com!
All the resources above can be found in our reading rooms. They are great places to study, pray and ask questions about Christian Science. Find out five different locations and their hours here.