Local Radio Stations/ estación de radio local
Sentinel Radio
Sunday 8:30am
KCMO 710 AM and 103.7 FM
El Heraldo Radio
Los Domingos 9:00 y 21:00
KYYS 1250 AM

Internet Radio/Edición Radial
Los programas del archivo del Heraldo Radio se transmiten todas las semanas por todo el mundo. Escuche el programa de esta semana donde se indica más abajo.
Support Local CS Radio Programming
The Cooperative Activities Committee of the Kansas City area Christian Science churches are pleased to sponsor these radio broadcasts. If you enjoy listening, please consider supporting this activity financially.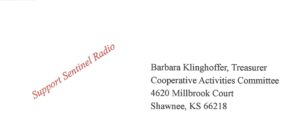 Please make checks payable to "Cooperative Activities Committee" or "CAC" and mail to the Treasurer. Pre-addressed envelopes are available at the local churches. 100% of your gift will be used to fund Christian Science radio broadcasts in the Kansas City area.